There is little doubt that Ether has been one of the hard-hit coins in the recent crypto markets' collapse. At press time, the cryptocurrency has lost nearly 50% of its value since Nov 1, tumbling all the way down from $203 to $104. This comes after Ether had reached its all-time high at $1400 just ten months ago.
While the current market decline may have contributed in some way to ETH's woes, regulatory uncertainty around ICOs is believed to have played a more significant part, aside to other possible causes such as the Hash Wars.
The SEC has clamped down on several ICOs for issuing tokens that should be registered as a security, and right now the rumor in the crypto community is that many ICOs on the Ethereum blockchain are (only now) cashing out their ETH to avoid losing funds raised.
The earliest ERC-20 ICOs tops the ETH HODLing table
Is this really the truth? Yes. But only to some extent. The following stats revealed that the following ICO projects are not taking part in the current cash-out: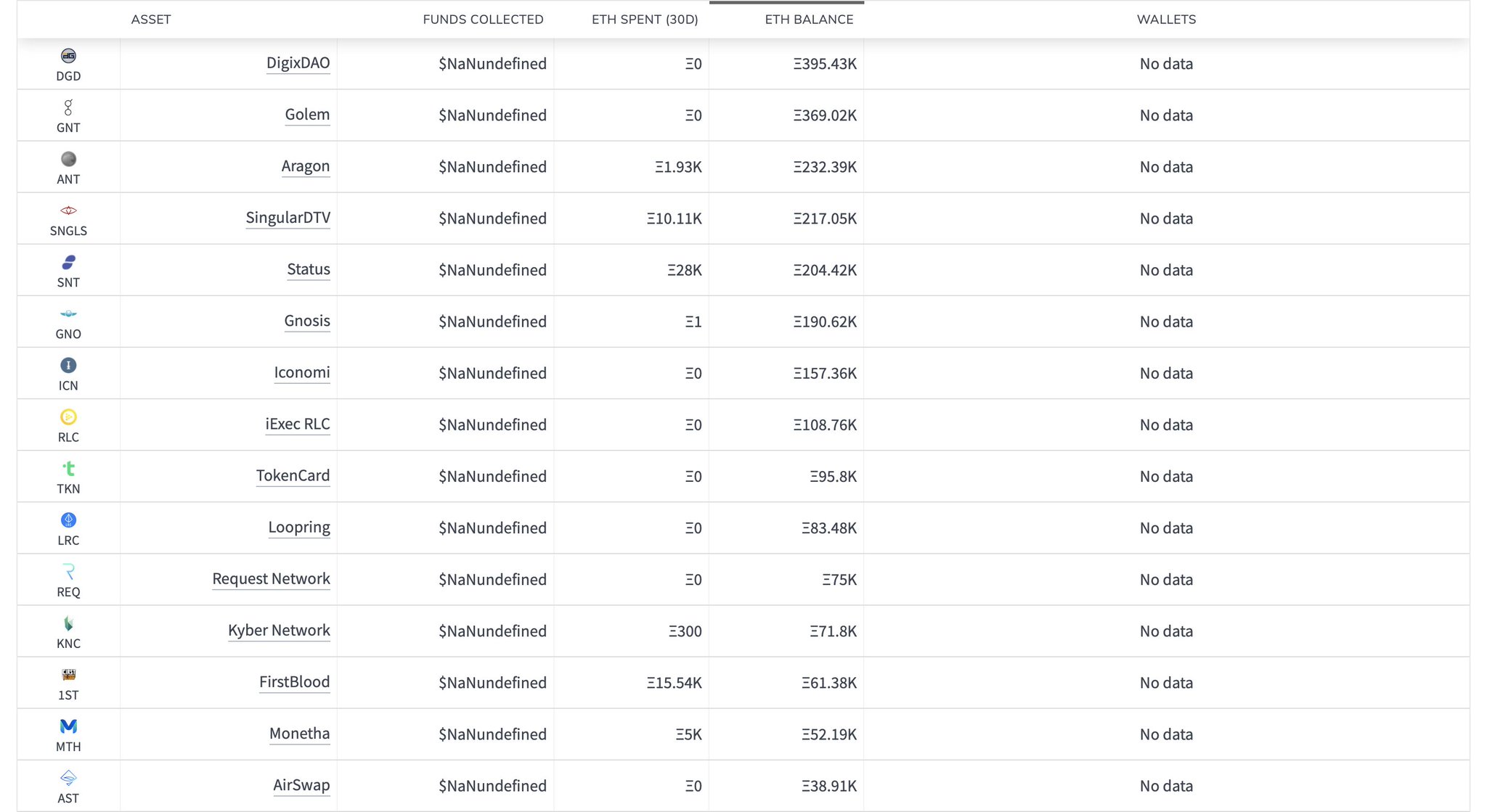 The top 15 ETH-holding ICOs are refusing to give up their ETH treasury and still nurturing the hope that a bounce back may be on the sidelines. Only 2.5% of ETH has been sold by these top projects even though the value of the coin is approaching a 50% decline level. Keep in mind, the earlier the project raised, the lower the price of ETH. Hence, there are many projects which are still having nice gains despite the crash.
Five of the top ICOs on the list still hold over 200,000 ETH with only an average of 8,000 ETH spent over the last 30 days. The top two projects, DigixDao and Golem, have liquidated none in this period with the most massive spender being the Status Project that has sold 28,100 ETH.
Six other projects in the top 15 have spent 0 ETH  during the 30-day period. Gnosis, the 6th project has spent only 1 and still holds over 196,000 ETH in its wallet. In total, just 60,881 ETH has been spent compared to the 2,353,610 ETH that is still in their treasury.
It could be that those ICO projects raised so much during their ICO period and will not incur any significant loss by hanging on just a little longer. Since these startups can still cover company operating costs, they consider it safe to "gamble" with a highly volatile asset like ETH. This could be seen by many as irresponsible behavior, however, investing in an ICO doesn't give any rights like shareholders.
Only time will tell which ICO projects made the right decision, or it was a panic sell. But what is now sure is that those projects raised way over than the needed amount. Did somebody say an ICO bubble?
256 Million USD had evaporated
However, almost 200,000 ETH was cashed out by various ICOs in the last seven days only:
Hero tops the above list of Ether ICOs cashing out: The project sold 24,258 ETH in the last seven days, holding a final balance of 13529 ETH.  The other ICOs in the top 15 spenders, except Status, have sold or withdraw below 20,000 ETH in the last seven days, with Storm Project cashing out its remaining balance of 1024 ETH.
The amazing part is that those 200K ETH worth around $24 million according to today's prices. In the all-time high, this was no less than $280 million. This means nearly $256 million that was evaporated.
Binance Futures 50 USDT FREE Voucher: Use this link to register & get 10% off fees and 50 USDT when trading 500 USDT (limited - first 200 sign-ups & exclusive to CryptoPotato).

Click here to start trading on BitMEX and receive 10% discount on fees for 6 months.
---