This week we saw a positive trend, although the volatility of the market is not expected to stabilize in the foreseeable future. Bitcoin is on a rising trend, which normally attracts the entire market which rose tens and even hundreds of green percentages. In the alternative coin sector, the ZRX was especially conspicuous this week, rising around 30% against the dollar.
The green market has added about $25 Billion to the market, but we should not forget the big picture that shows a downward trend since the beginning of last year's correction.
If we have to point out reasons for the rise, the finger will turn to Bitcoin's ETF approval, which is of great interest to investors who are still afraid to keep Bitcoin on the side of regulations that try to make order in the market and to allow institutional investors to put money that is not in the pocket of retail investors. In addition, some say joining BlackRock's industry has also affected the overall spirit. However, it is still not clear how true the rumor is, but if you look for reasons, you get to that.
The range of rates in which we saw Bitcoin has not changed much since the beginning of June, and the rate has dropped from $7,000 and is trading around $6,000. For example, Ethereum did not drop support around $400, so we can say that we are in a volatile but relatively stable period. In the short term, it appears that the floor is behind us, but technically there is a stormy debate among various analysts as to whether the descending trend is over or we are still there, and that this is a small increase which will be corrected later and we will see lower rates. In any case, it's never dull in the crypto market and anyone who missed the FOMO days got a little weekly pleasure.
Crypto Worldwide News
Institutional Investment Through Bitfinex Will See Bitcoin To The Moon. Banks and hedge fund investors are coming to the crypto markets courtesy of a new partnership between Market Synergy GmbH and major exchange Bitfinex. A lot of money is expected to be pumped into space and Bitcoin.
Possible Bitcoin ETF Raises Market Hopes as US SEC Opens Public Discussion for CBOE Fund License. Approval of a Bitcoin ETF launch now looks certain as SEC opens public discussion site. The regulators are on the verge of making a decision that could have a great impact on the crypto markets by rolling out the new investment vehicle.
Korean Cryptocurrency Exchanges Pass KBA Regulatory Review – A Boost for Retail Investor Confidence! Public confidence in crypto exchanges is expected to grow after a good number of companies passed a regulatory review by the Korean Blockchain Association (KBA). Among other things, exchanges were interviewed for imbibing strong security measures.
Bitcoin [BTC] transactions on Abra get a boost, MasterCard and Visa now accepted.  The digital wallet and exchange application available on Android and IOS will now support BTC transactions on the most commonly used credit/debit cards, with the goal of making crypto purchases a lot easier and simpler for its users.
US Congress Calls Digital Currencies 'The Future of Money' Ahead of Key Hearing.  Just before Capitol Hill hearings, the US house of representatives consisting of Lawmakers in the powerful Financial Services Committee has not hidden their admiration for digital currencies, labeling it as the 'future of money' in the event title.
All Crypto Exchanges in South Korea Meet New Requirements, New Money to Come in.  Bithumb, Upbit, and ten other Korean based exchanges have been approved as having adequate security measures and internal management systems by the Korean Blockchain Association. A new flock of investor capital is expected to be pumped into the markets following regulatory compliance.
Possible Addition of 6 Cryptos, New Coinbase Blog Post Reveals.  Following existing Digital Asset Framework, the popular exchange platform is on the verge of rolling out six new cryptocurrencies to traders on its exchange. Cardano (ADA), Basic Attention Token (BAT), Stellar Lumens (XLM), Zcash (ZEC), and 0x (ZRX) are all possible additions.
Global Financial Regulator Says Crypto Assets Pose "No Material Risk" to Financial Stability. Fears that crypto assets could prevent on global financial stability has been ruled out by the Financial Stability Board (FSB) in its new framework for monitoring the risks of crypto assets sent to the G20 nations on Monday.
Largest Association of Investment Professionals Adds Crypto to Curriculum. CFA Institute, The world's largest association of investment professionals, with over 150,000 members will add cryptocurrencies and blockchain to its curriculum. The institute decided to include it "after industry participants showed surging interest in surveys and focus groups."
Charts
Bitcoin
It seems that the resistance is being tested around $6,800 if resistance is breached in the $7,400 area. Support for the past week held around $6,100 and it was a quiet week in the trading arena where until the last two days, the movement started up.
Etherium
Against the dollar, support held this week around $420 with resistance at $500 and traded around $468 and of course the impact of the gains against the dollar was influenced by Bitcoin in the last two days.
Against the strong weekly Bitcoin, the support was around 0.07 BTC. It was a bit fragile this week, whene we saw a divergence from around 0.067 BTC and back to the support areas at 0.07 BTC where there is also trading in this resistance range at 0.075 BTC.
Bitcoin Cash
Technically, it seems interesting to see what is happening in the failed trade and back down to the support areas we saw in April. There seems to be support around $680 under the influence of Bitcoin. Here, too, the rallies were trading in resistance areas around $788 and at $800.
Against Bitcoin this week, we saw the rate breaking support around 0.11 BTC but it held only a few days and support has reached around 0.108 BTC. Gains in the last two days influenced by Bitcoin and most of the market traded around 0.117 BTC with resistance at 0.12 BTC.
Ripple
Against the dollar, a sharp and clear decline in 2018 has recently appeared in the press reports that the currency has lost its height. This is a sign to pay close attention to what is happening in Ripple.
Support around $0.43 which is a low since April and seems to be finding support at this time. Traded around $0.47 resistance around half a dollar.
Against Bitcoin it traded around 700 SAT. These are also the support levels we have seen in April and the leaks targeting the 6900, do not hold back with support resistance in this range at 7500 SAT.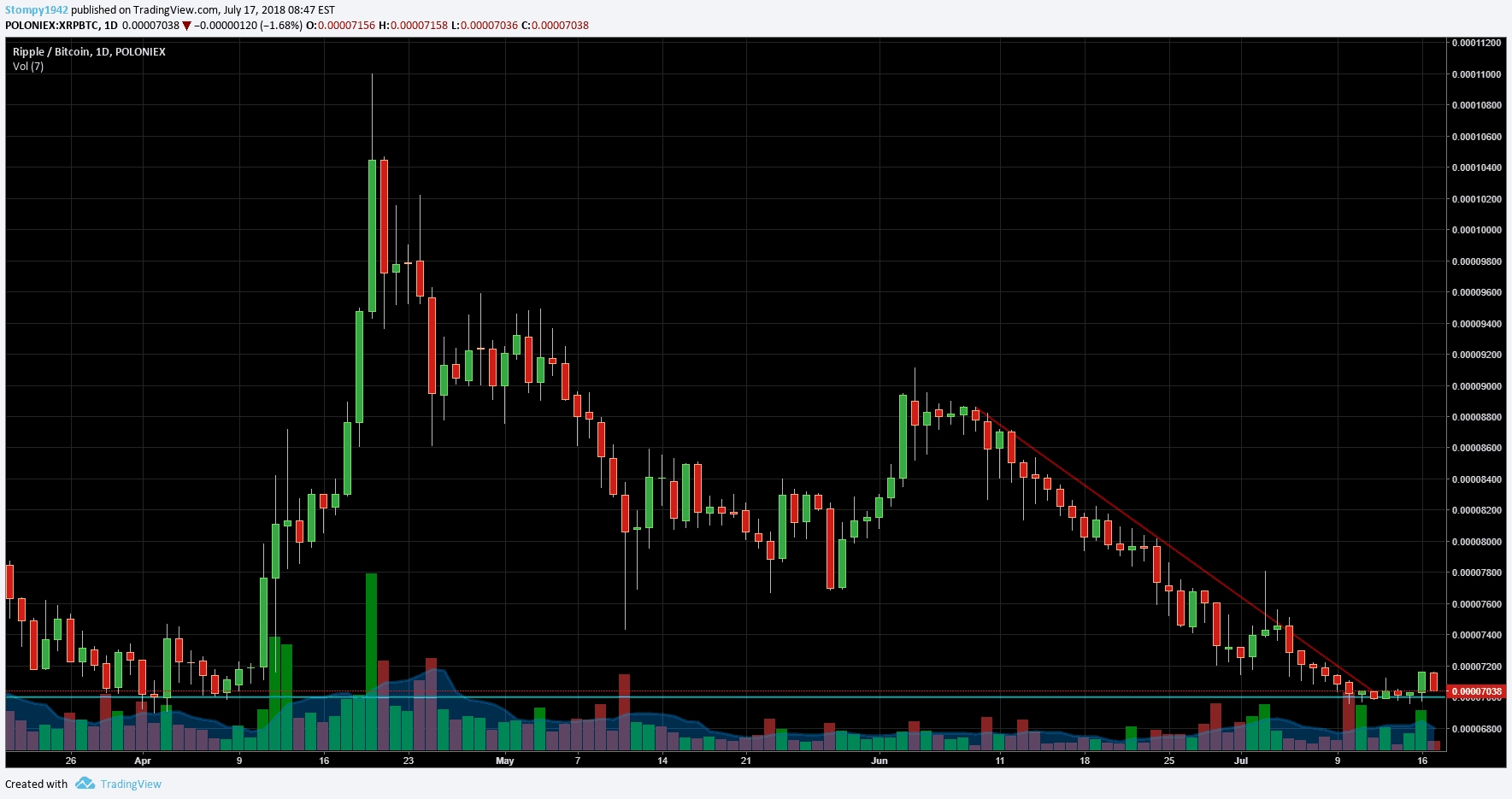 BNB
Against the dollar, we returned to the analysis from previous revisions. Here we saw that the rising trend broke and turned into an interesting point. Is the trend going to change direction or is it a weakness in the market? Total support around $12 also held in May. Traded around $13.2 right on this sure resistance.
In contrast to Bitcoin a slightly different story as its trading around the 0.0019 BTC trend below to test the support. Right in these resistance areas at 0.0021 BTC technically it seems to be rising with corrections around -30% having a top.
Cryptocurrency charts by TradingView 
Binance Futures Limited Offer: Use this link to register & get 10% discount on fees (Exclusive to CryptoPotato).

Click here to start trading on BitMEX and receive 10% discount on fees for 6 months.
Disclaimer: Information found on CryptoPotato is those of writers quoted. It does not represent the opinions of CryptoPotato on whether to buy, sell, or hold any investments. You are advised to conduct your own research before making any investment decisions. Use provided information at your own risk. See Disclaimer for more information.
---