While many continue to focus on Bitcoin's price, its network has set a new record in its hourly USD transaction volume, recent data by Glassnode reveals. 
For the first time in history, the network processed a total of $8.9 billion in on-chain transactions in a single hour on Dec 4th, a sign of a significant improvement of the blockchain.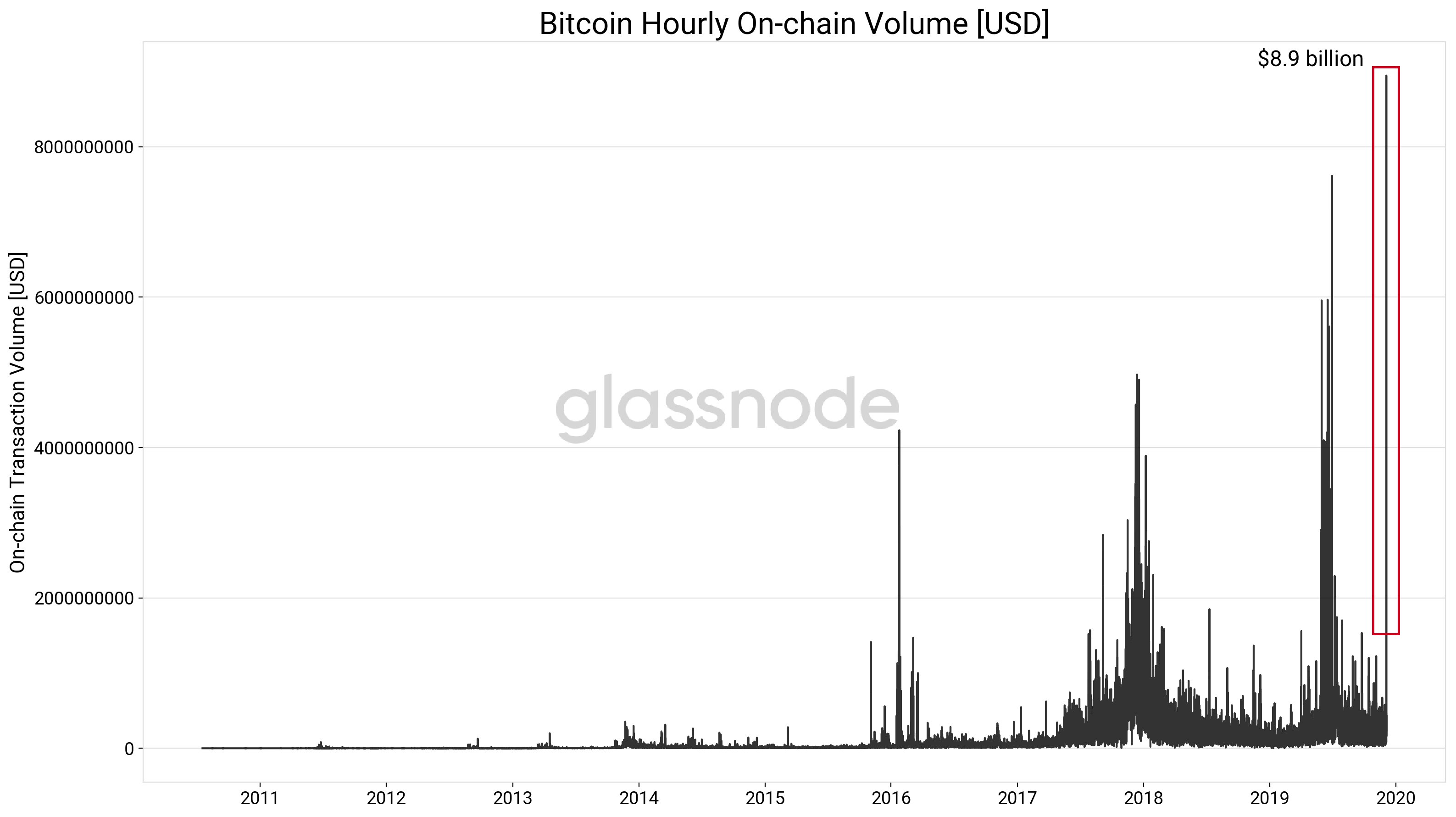 In the last two years, Bitcoin's daily transaction volumes have seen massive growth, increasing from a mere $200 million in 2017 to more than five times the number at the beginning of this year. 
Although the new record does not seem to have any significant effect on the current price action and the market in general, it clearly shows how well the network has performed so far with more transactions being proceeded every day. 
What Caused The Spike?
According to Glassnode, an on-chain market intelligence monitor for digital assets, the $8.9 billion USD hourly transaction volume on the bitcoin network was as a result of the several large transactions made by Bittrex exchange within an hour. 
This $8.9 billion spike in on–chain volume was caused by @BittrexExchange moving a large amount of #bitcoin several times – a series of 21 transactions within one hour, each moving ~56,000 $BTC. 
Large Transactions, Minimal Fees
Not only is there an increased transaction volume, but the transaction fees on the bitcoin network remain impressively low. 
For instance, data revealed that three large bitcoin transactions from the last couple of days – 46,000 BTC ($337 million), 43,500 BTC ($313 million), 57,000 BTC ($415 million) were proceed with incredibly low fees of $0.40, $1,00, $5,00 respectively. In other words – a total of $1.07 billion was transferred with a fee of just $6. Needless to say, this is extremely low compared to what it would have been if the transactions were done in fiat currencies. 
In any case, all of the above goes on to display some of the benefits of Bitcoin, which differ from its price and its role as a store of value. It shows that its network is capable of handling large transactional volumes and that it has only been improving as time goes by.
SPECIAL OFFER (Sponsored)
Binance Futures 50 USDT FREE Voucher: Use this link to register & get 10% off fees and 50 USDT when trading 500 USDT (limited offer).
---