May 22, 2020, marks the tenth anniversary of the famous Bitcoin Pizza Day, in which a Florida man made the first recorded physical purchase using Bitcoin. 
On this day in 2010, Laszlo Hanyecz, made a mark in history after he paid 10,000 Bitcoin, which is worth millions of dollars today, for two large Papa John's Pizzas.
Hanyecz is a programmer and a Bitcoin miner who contributed to Bitcoin's source code during the early days of the network when 1 BTC was less than a penny. 
10,000 BTC Was Worth $30 In 2010
Having mined tens of thousands of BTC, Hanyecz decided to demonstrate the proof of concept of Bitcoin by posting on BitcoinTalk that he would give up 10,000 Bitcoins in exchange for a couple of Pizzas.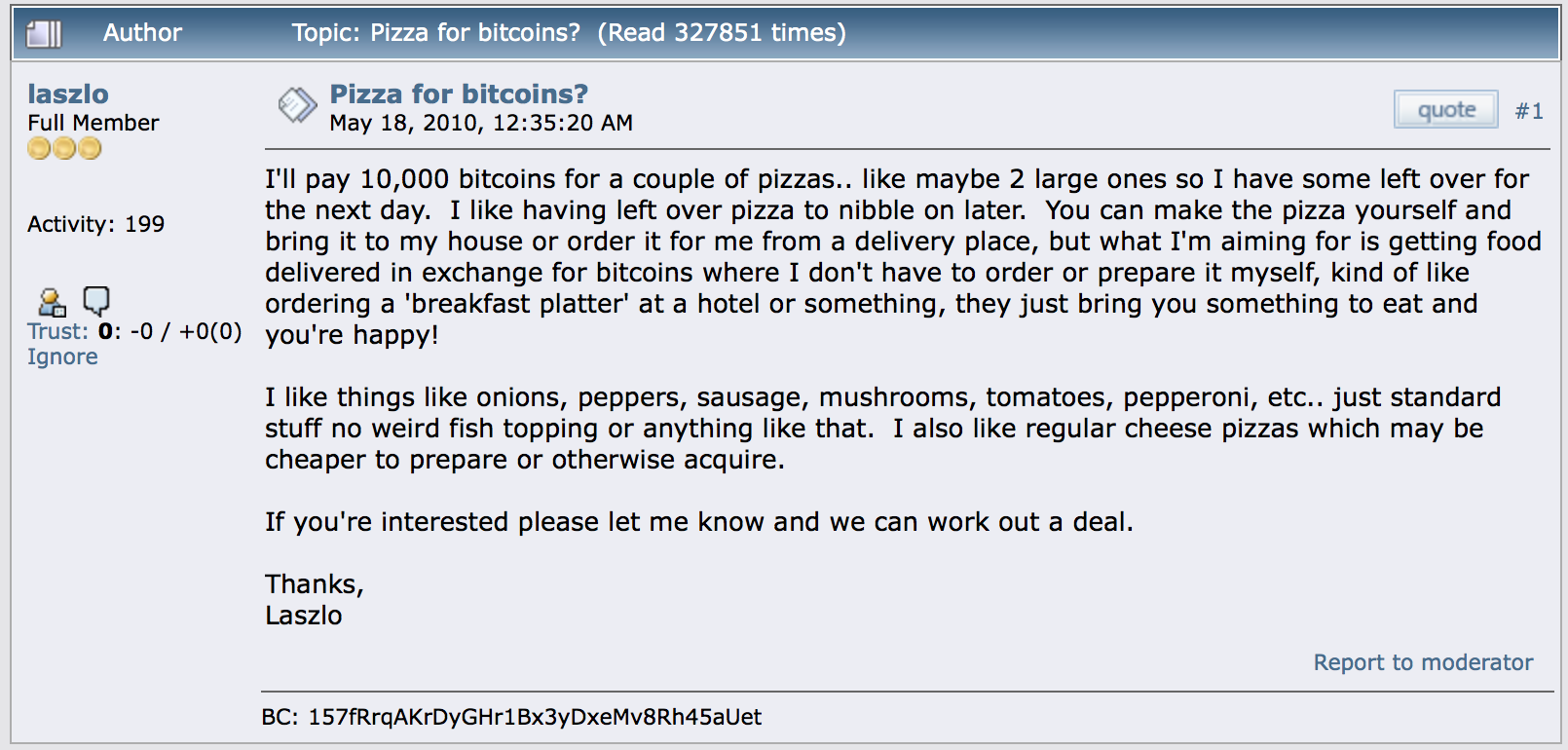 Although he made the post on May 17, he could not find someone to accept the offer until May 22, when Hanyecz reported that he had successfully traded the cryptocurrency for Pizzas, courtesy of a British man. 
A month after the first trade, Hanyecz made an open offer that he was willing to continue trading 10,000 BTC for two large Pizzas as long as he had the fund, which he usually has in bulk considering his status as a miner. This would mean that he probably spent way more Bitcoin buying what he described as his daughter's favorite snack. 
A Believer? 
At that time, 10,000 BTC was just $30, so it seemed like a fair deal to both parties. However, today, with Bitcoin price currently at $9,100, 10,000 BTC is worth more than $91 million, which is over 300,000,000% growth in the last ten years, a shockingly unbelievable feat. No wonder Bitcoin was dubbed the best performing asset of the last decade. 
Speaking at the 60 Minutes CBS show last year, Hanyecz said that he just thought that it would be really cool if he traded the "open-source internet money for a real-world good" and Pizza (food) was the perfect fit. 
Looking back, the event seems bizarre considering Bitcoin's current price. However, the programmer tries not to think that he spent $91 million on two pizzas because the cryptocurrency did not have any value at that time. 
He said he believes that his action did help promote the cryptocurrency as a medium of exchange, and if he had not, then another person would have done so at some point. 
Today, Laszlo Hanyecz is considered a legendary figure in the Bitcoin world who inspired the world's Pizza Day, and members of the cryptocurrency community will certainly continue to celebrate the anniversary of the first Bitcoin transaction. 
Happy Bitcoin Pizza Day!
SPECIAL OFFER (Sponsored)
Binance Free $100 (Exclusive): Use this link to register and receive $100 free and 10% off fees on Binance Futures first month
(
terms
).
PrimeXBT Special Offer: Use this link to register & enter CRYPTOPOTATO50 code to receive up to $7,000 on your deposits.
---